Anfield Regeneration 5th Anniversary
2018 marks five years since Your Housing Group's innovative partnership with Liverpool Football Club and Liverpool City Council began.
Your Housing Group joined forces with the council and the football club in 2013 to unveil a new vision for Anfield, designed to make the community a more attractive place to live and work.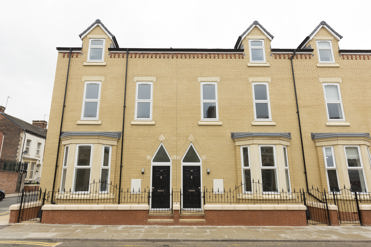 The housing aspect of the wider Anfield Project has seen more than 400 new and refurbished homes created as well as improvements to landscaping and gardens. YHG has invested more than £23m into developing 161 new homes for private rent and shared ownership and most recently bringing a further 27 homes back into use for affordable rent and fit for the needs of Anfield residents today.

Smaller terraced houses have been combined to create larger, family homes with improved outside space, some with gardens for the first time. Demolition of poor quality homes has created more open spaces, part of which will feature communal bin stores so residents no longer need to leave rubbish bags in rear alleyways.

Work on the final phases of Your Housing Group's housing investment is underway, together with environmental improvements to improve the street scene.

Brian Cronin, Chief Executive, said: "It's been a real privilege to have played a part in Anfield's regeneration and witness hundreds of new families move into the area thanks to our house-building programme.

"At Your Housing Group we are passionate about providing homes for people at every stage of life and creating places to thrive. Anfield is a shining example of how we've worked together with our partners to transform it into a place of opportunity where people want to live and work.

"In five short years Anfield has become a thriving community that people are proud to call home. With our housing work heading towards completion this year, the community deserves a successful High Street and we hope the partners' vision sees this aspiration become a reality."

With new and improved housing breathing new life into the community, the partnership's focus is already moving to the commercial aspects

Hemingway Design, founded by famous fashion designer Wayne Hemingway, has launched a new brand to celebrate the unique opportunities Anfield offers for businesses. The aim is for the eye-catching letter 'A' to become a recognised symbol for Anfield and features on the new website and brochure.


Anfield has been held up as a textbook example of how neighbourhood regeneration can improve job creation, economic activity and employment by researchers at Sheffield Hallam University. The work has been featured by the Department for Communities and Local Government (now Ministry of Housing, Communities and Local Government).

The past five years have seen a change in demand with a long list of residents now chasing every vacancy.

The wider regeneration project has also seen the transformation of Stanley Park and huge improvements to Liverpool FC's stadium, expanding the ground capacity from 45,000 seats to 54,000.

Councillor Ann O'Byrne, Deputy Mayor of Liverpool, said: "The rebirth of the Anfield neighbourhood is arguably one of the greatest regeneration achievements in Britain in the past decade. It is the perfect example of a true public and private partnership working in harmony to improve a community be it the housing offer, shopping, public amenities and greenspace. The city council has enjoyed a brilliant relationship with all of our stakeholders including Your Housing Group, Liverpool Football Club and all the community schemes and contractors that have worked tirelessly to make Anfield a better place to live and an attractive place to invest in.


"The quality of the homes, both new and refurbished are of a truly excellent standard and has transformed the spirit and attitude of all who live in the area. The city council is working with many different partners to address our housing issues and in just the past four years 1,500 vacant properties have been made into homes for families right across the city. Housing is the key to unlocking the potential of any area and Anfield is a shining beacon of that approach. And the plans still to come will show its regeneration is built on very solid foundations."

Your Housing Group owns and manages 28,000 homes across the North of England for people at all stages of life. Through innovation the Group finances, builds and manages high-quality homes. They include homes for social rent, affordable homes, retirement living and supported housing for vulnerable people.