Spotlight on… Supported Housing
In the first of a series of Spotlight articles we throw the spotlight on one area of Your Housing Group. In this blog, we look at our Supported Housing service.
Giving vulnerable people a chance
Our Supported Housing service provides housing, support and learning to help people live and thrive as independently as possible. We tackle and prevent issues such as homelessness, poverty, isolation, mental ill-health and the risk of abuse.
Foyers are aimed at young people and are affiliated to the Foyer Federation
Lodges are where we take in people made homeless through circumstances beyond their control
Vulnerable Tenant Support Service provides tailored support to vulnerable residents in their own home
Domestic Abuse Services provide essential support and refuge to vulnerable people and children
A Foyer Tale
I used to live at Wigan Coops Foyer and the life skills I gained have been immense. I learned how to cook, budget and socialise. I was 16 and the youngest there at the time. I have many happy memories. Now I'm 32. I've got a lovely home and a brilliant little girl.

Without the Foyer, God knows where I would have ended up. I can hand-on-heart say that you saved my life."
A Domestic Abuse Story
Coming here, you have made the best decision ever. You feel battered, bruised, lost, lonely, can't see a future, stupid, scared, everything negative – that is you, now. Please understand it's good to feel all these things, because guess what, things can and will get better.

Only advice I'm going to give is please listen to Patti and Sylvia. They are amazing. Angels sent to help. The Refuge is amazing. It's a life-changing place. When you leave it's the start of a new and better life."
Giving something back...
When young people find work their Housing Benefit is stopped. This has a big impact because Supported Housing costs are higher than typical housing rents. We agreed to provide extra support that gives working young people an extra 25% off their rent.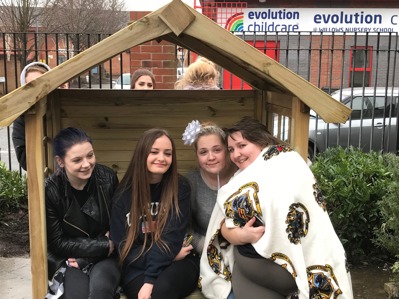 What goes on in a Foyer? Here are just a few activities from our Verve Place Foyer in Warrington: 

Art competitions: They won first place in IKEA Warrington's Art of the Community competition for their "House" entry, winning £300 of IKEA products which they'll use to re-furnish parts of Verve Place.

Finding work: A group of young people have completed an Employability Skills course run by life skills charity ASDAN. Two have found work while a third has joined a child first aid course. Bell Group also offered painter and decorator apprenticeships.

Orchard project: Monthly workshops, farm visits and fruit tree planting teach young people about gardening, horticulture and the value of the landscape. It's created a lovely garden at Verve Place too! 
Can you help?
Our Foyers are vibrant, secure places for young people to stay while they rebuild their lives. Even with regular investment, so many use them that keeping them homely can be difficult.

Can you help? We're always on the lookout for soft furnishings, rugs, bedding, clothes and more. If they're in good condition, please don't throw them out! Email Helen.McGregor@yourhousinggroup.co.uk with details.
Did you know:
We own around 1,000 Supported Housing units designed to give vulnerable people somewhere to live while they rebuild their lives