Beechmere
Coronavirus Update
Due to the latest advice and guidance around the coronavirus, COVID-19, we have taken the difficult decision to postpone all events until further notice. This is precautionary at this stage but it is for your safety. For further information, please visit our COVID-19 Update page. 

In the meantime, you will be receiving the latest newsletter for Spring 2020 very soon!

Please read our 'six months on' newsletter below
Click the image below to view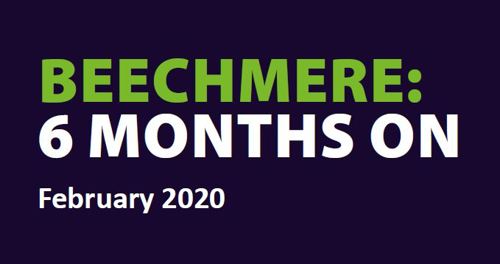 Our the first edition of the Beechmere resident newsletter is still available, click here to read the full newsletter. We hope you enjoy!
DECEMBER 2019

We are pleased to have been able to post cheques to all residents of the Beechmere fire today, Thursday 19 December 2019.
The money raised by Just Giving and other public donations has been shared equally between all residents, amounting to £434.06 each, after over £60,000 was raised thanks to the generosity of the public.

Crewe Town Council, who were holding the money, passed the money to us after we reached an agreement last week, enabling us to distribute it in time for Christmas.

We are also excited to have produced our first official newsletter for all former Beechmere residents which is available to download at the top of this page and we hope to continue to create this quarterly in order to maintain a sense of community and connection between you all. We will also be continuing with events, in line with your wishes, in 2020.

You, as a resident, should have also now been invited to do a survey to ensure you have had your say and confirm how you would to be communicated with as we move forward. We look forward to updating you again soon with regards to the Beechmere rebuild and plans for 2020.
NOVEMBER 2019

Thank you all for your patience and understanding during these challenging times.
Cheshire Fire and Rescue Service released their initial investigations and based on the evidence at hand, they found that the fire was accidental and likely to have broken out on a third floor roof terrace before travelling up the wall into the roof space.

We welcome these findings and await the ongoing investigation into why it spread, which is likely to take several months to complete.

As always, our residents are a top priority and we have now placed our signs outside the Beechmere site, as we are still here for you. We continue to work with the remaining residents who still require a permanent home. Around two-thirds of our residents have now  been found alternative permanent homes to date.

The intention is to rebuild the Beechmere complex and Avantage are currently working with the council and partner organisations on progressing this. We will update you as soon as we know more about the demolition and re-build operations.