Retirement Living Services
Considering a career in Retirement Living Services at Your Housing Group? You'll make your own decision about whether to apply, but if you're wondering whether you'll fit in around here, take a look at what our own staff say!
We're probably for you if:
You thrive on creating positive environments that make people happy
You love to learn and develop as there's always new situations to deal with
You don't want work to feel like a chore
You have the ability, and desire, to take on additional responsibilities
You want the flexibility to move into new roles
 We're probably not for you if:
You find it difficult to separate emotional attachment in your work
You want a 9 – 5 job
You want two days that are the same
You struggle with maintaining professional boundaries
You're not a team player


Norma Elwill, Scheme Manager

Norma moved to Your Housing Group from Arena Housing, as part of the merger. During her time at Your Housing Group she progressed from RLS Officer up to Scheme Manager.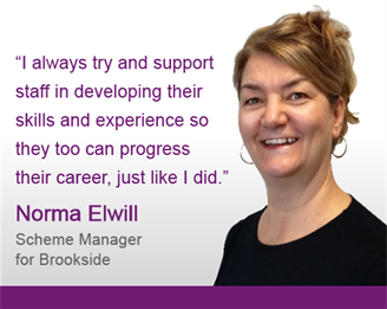 "In 2011 I got my first role Retirement Living Services and became RLS Officer at Brookside – a newly developed retirement living scheme. The scheme didn't open to the public until 2012, so it was really rewarding to see the scheme grow to full occupancy and to see the vision of the site become a reality."
"During my time as RLS Officer I received a vast amount of support from my line manager through regular 121s. We identified training opportunities to help further my career and I successfully progressed to Scheme Manager in 2015."  
 "As Scheme Manager I always try and support staff in developing their skills and experience so they too can progress their career, just like I did. We have a fantastic team here at Brookside and we all really pride ourselves on the high quality, unique service that we provide."
Danielle McCann, Operations Manager for Ryfields Retirement Village

Danielle has worked for Your Housing Group for 14 years, starting off her career as a Customer Service Officer in Young Persons Services and moving up to Operations Manager in Retirement Living Services. 
"I've had quite a variety of training in relation to the client group, but in realtion to the business, I've had lots of training around health and Safety, finance, management of staff, as well as mentoring style training. 
"My advice to anyone applying to work at Your Housing Group would be to understand that there are plenty of opportunities within this business"