Lockdown3
England has entered a third lockdown. This is effective from 00:01 on Wednesday 6 January 2021 and will be reviewed late-February, 2021.
Repairs and Maintenance Update
England is now in a third national lockdown which will be in place until at least mid-February, 2021.

Your Housing Group has continued to operate as normally as possible throughout this pandemic, however, we are now in a position whereby we feel we have to revise our current service for repairs and maintenance, on a temporary basis. This comes into effect immediately.

What does this mean?
We will only be accepting jobs that are deemed urgent or an emergency. This includes repairs that may be a risk or danger to either yourselves, a neighbour or passers-by. We will also carry out external repairs where possible. It includes the following, but each job will be assessed on a case-by-case basis: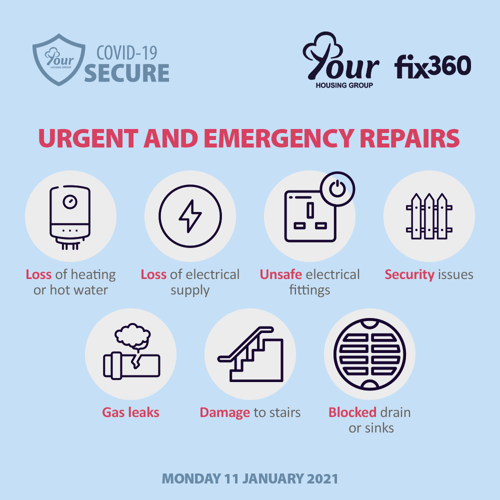 This slight reduction in service allows us to be able to focus on the absolutely essential works that may need doing in your homes, which also includes legally-required safety checks, such as gas and electricity compliance testing.

Why is YHG doing this?
Similar to Lockdown 1 last Spring, we are facing a reduced repairs capacity. This temporary revision to our usual service also allows to potentially prioritise our critical support service elsewhere, for example delivering food and medication to residents who are shielding, vulnerable or don't have a local support system.

We appreciate your understanding with this and thank you for your patience once again. Please be assured that we will be reviewing our capacity on a weekly basis and as soon as we are able to offer a full service again, we will update this webpage and social media channels immediately.

PLEASE NOTE: If you make a call/send a web form for a repair during this revised service offer period, you will need to call again when we are fully operational to ensure you get an appointment. Any non-urgent or non-emergency repairs that are reported during this time will not be actioned.
YOU CAN READ THE COMPLETE GOVERNMENT GUIDANCE ABOUT WHAT YOU CAN AND CAN'T DO HERE

In summary:
- You must not leave, or be outside of your home, except where necessary
- You cannot leave your home to meet socially with anyone you do not live with or are not in a support bubble with (if you are legally permitted to form one)
- You may exercise on your own, with one other person, or with your household or support bubble once per day, and you should not travel outside your local area

What is a Support Bubble?
A support bubble is where a household with one adult joins with another household. Households in that support bubble can still visit each other, stay overnight in each other's households, and visit outdoor public places together.