Customer Scrutiny Inspectors
Customer Scrutiny Inspectors (CSIs) scrutinise and hold YHG to account in a more formal way.


What is Customer Scrutiny?
Customer Scrutiny falls under the Your Voice section of the Customer Connect framework. We have an established history of working with residents to really dig deep and scrutinise our services from their perspective. In order to ensure we had a robust, reliable and consistent system in place, we decided to make the role of a Customer Scrutiny Inspector (CSI) a full-time role.
What is a Customer Scrutiny Inspector (CSI)?
A CSI is a bit like a 'secret shopper'. They are trained YHG residents - tenants or leaseholders - who volunteer their time to act as a critical friend to us by reviewing our services, listening to the 'lived' experiences of residents, and then from a customer perspective, they will offer conclusions and recommendations for change.
An example of how it works...repairs
Typically, we would survey more than 800 customers a month about their repairs' experiences. However, this large volume of data, as useful as it is, doesn't allow those who would like talk in more detail about their experience - but not necessarily want to make a formal complaint - the opportunity.

Therefore, using this data, we would then ask our CSIs to contact a sample of dissatisfied customers.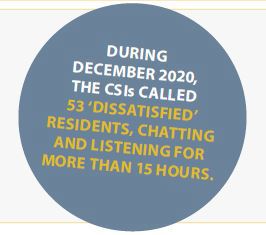 They would chat on the phone, or in person if preferred and when it's safe again, to discuss their views. This information is then recorded via a survey and analysed by the wider group.

The final outcomes are then shared with key members of YHG and fix360 for transparency, before being presented formally to the Customer Services Committee (CSC) for consideration.

If you want to find out more information on how to get involved in our CSI, please email yourvoice@yourhousinggroup.co.uk