Investing in your home
We are in the process of revising our five year investment programme by looking to invest more money, upwards of £160m, to include more homes. Once we have this updated information, we'll publish on our website and social media. If you have any repairs and maintenance needs in the interim, raise these via Your Home Hub or contact Your Response on 0345 345 0272.
Your Housing Group's most significant investment programme in a decade will see more than 6,500 properties improved. Our #houseproud modernisation programme will include a whole range of improvements including:
Kitchen replacement
Bathroom replacement
Heating upgrades to increase warmth and fuel efficiency
Electrical rewiring to the latest standard
Installation of double glazing
Decorating the outside of your home
Upgrading communal areas
A range of adaptations to improve mobility of tenants who require such work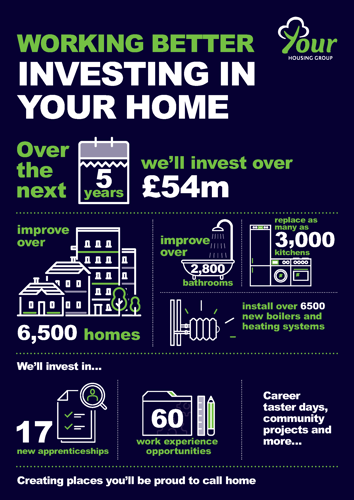 Improvements where they're needed most
We completed a comprehensive survey of our homes to ensure that improvements and modernisations are provided where they're needed most. This survey has informed the five-year plan. Replacements will be provided where:
Boilers are more than 15 years old and in poor condition
Kitchens are more than 20 years old and in poor condition
Bathrooms more than 30 years old and in poor condition
Windows and external doors more than 30 years old and in poor condition
No works are to be advanced more than two years ahead of its planed replacement date.
A heating system needs replacing where a kitchen also needs to be updated

All homes being improved will also be subject to an electrical test and will be re-wired if needed.
As part of our commitment, we've appointed contractor Engie and Wates to carry out the work who share the same passion as us for putting customers first.
What happens next?
We'll write to customers due to benefit from the works in the coming 12 months. Nearer to the start of the works, our contractors will get in touch with an information pack which will include proposed dates and details of:
What works will be undertaken
The length of time we expect the works to take
What level of disruption you can expect- Contact details of your programme liaison officer and emergency telephone numbers