Antisocial Behaviour
We believe that everyone has a right to enjoy their home and live safely and peacefully. We are committed to working with communities to tackle anti-social behaviour, hate crime and neighbour nuisance.
Hate Crimes, as defined by the Equality Act, are any crimes that are perceived to be targeted at a person because of hostility or prejudice towards that person's:
● Disability
● Race or ethnicity
● Religion or belief
● Sexual orientation
● Transgender identity
● Alternative subculture

This can be committed against a person or a property, and can be expressed in many forms, and may include:
● Verbal abuse
● Assault
● Vandalism
● Graffiti or offensive literature
● Threatening behaviour
● Disputes via social media
Antisocial behaviour
We are proud supporters of #ASBawarenessweek and we are proud partners of Resolve. READ ABOUT THREE REAL-LIFE SITUATIONS BY CLICKING THE IMAGES BELOW, AND KNOW WE CAN HELP IF YOU TELL US.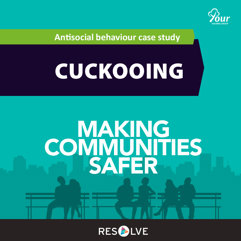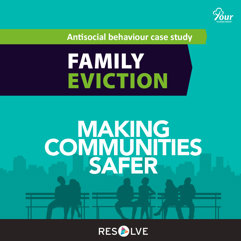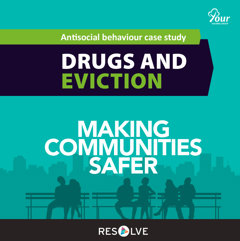 What is antisocial behaviour (ASB)?
Antisocial behaviour is defined in law as "conduct that has caused, or is likely to cause, harassment, alarm or distress to any person"

The law also gives specific definitions of antisocial behaviour in housing; '"conduct capable of causing nuisance or annoyance to a person....or in relation to [their] occupation of residential premises".


Housing-related nuisance or annoyance means behaviour that affects a local authority or social landlord's ability to manage their housing. With housing, antisocial behaviour can include:
 - loud noise from neighbours
 - harassment such as verbal abuse or threats
 - vandalism, property damage and graffiti
 - fly-posting, dumping rubbish and abandoned cars
 - animal nuisance.

If you experience problems, it is important to keep an up-to-date record of events, noting the day, date, time and nature of the behaviour causing you annoyance or distress. This can help you to get some perspective on how often it happens. If you decide to take formal action at some stage, it can help others to see an established pattern of nuisance over a period of time.

Reporting antisocial behaviour
Our specialist team will carry out an early assessment of the report. We will ask you questions about the incident and the events leading up to it to identify any urgent actions that need to be taken. An action plan will be agreed with you setting out the following:

- How the initial investigation will be carried out
 - How you can work with us to provide the necessary evidence (this may involve keeping a written or recorded diary)
 - The most appropriate method of resolution, with realistic outcomes
 - How often you will be contacted and by your preferred method of communication throughout the case.

We aim to resolve cases quickly and efficiently, but antisocial behaviour can be a complex, lengthy process and so it can be difficult to give timescales. We aim to look at all cases and review them and contact a complainant within two working days. 

Colleague Safety
Whenever Your Housing Group colleagues visit your home, we expect them to feel safe and respected, just as we expect you to feel safe too.

As part of our ongoing work, we are focussing on mutual respect. No one should fear abuse, threats or intimidation, of any description, whilst doing their job. We make it clear, as part our antisocial behaviour policies, and as part of our commitment to you to provide excellent customer care and high-quality services, that we always do our very best to treat our customers with respect.  We expect you to treat our colleagues the same way.

We appreciate that the vast majority of you are respectful and friendly, no matter what the situation, and it is only a minority who can be abusive or even violent towards our colleagues. However, we must deal with this and reiterate that we have a zero-tolerance approach towards any attacks, verbal or physical, against employees.

We will not tolerate:
 - Violence
 - Aggressive behaviour,
 - Derogatory remarks or rudeness
 - Threatening language

We also may refuse to continue communicating with you if any negative behaviour persists.

In serious or ongoing cases, we may also take legal action against someone who has behaved in a violent or abusive way towards our colleagues. However, we will deal with all incidents on a case by case basis and take the most appropriate action.