Alley Angels help boost recycling in Anfield
Thanks to the work of a Liverpool voluntary group, the Anfield Alley Angels, the recycling rate in Anfield has increased by nearly 80% from 6% to 82% (almost three times the current rate for Liverpool as a whole).
To celebrate the success of the initiative, which was set up in June last year, a special clean-up event took place today, Friday January 25th. Members of the local community, local councillors and representatives from YHG, rolled up their sleeves and took to the streets of Anfield Village to join the weekly clean-up.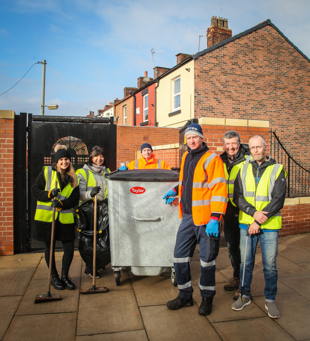 The day included litter picking, brushing the alleyways, weeding, bin store tidy-ups, providing information on the Blue Bag recycling scheme and issuing leaflets advertising Bulky Bobs bulky item collection service. Free dog poo bags were also offered to dog walkers.

The Anfield Alley Angels project, set up by Your Housing Group in partnership with Liverpool City Council, encourages local residents to work voluntarily to clean-up their area. 

So far 50 local residents have been involved with the Alley Angels project, including a regular clean-up team of seven people, with more than 250 hours of their collective time donated since the project started seven months ago. Following the initial success, the organisers are keen to recruit more willing volunteers. This will continue to help tackle the problem of rubbish being dumped in alleyways which attracts rats and other vermin.
Dave Litherland, Head of Anfield Regeneration for Your Housing Group said: "This initiative is making a huge difference to the Anfield Village area with residents taking far more pride in their neighbourhood than they did previously.  Before Alley Angels started recycling rates on Randolph Street were only 6% and now they are at 82%.  The current recycling rate for the city of Liverpool is 29% so this is tremendous. Last year Liverpool City Council spent £10million on fly tipping, so this project is helping make a big saving."
Any local residents interested in taking part in the weekly Anfield Alley Angels weekly clean-ups should contact James Coates, community regeneration co-ordinator for Your Housing Group on 07795 471359.