Award winning Chair steps down at end of tenure
Kathy Cowell OBE, stepped down as Chair of Your Housing Group on 29th September after nine years as Chair of Your Housing Group.
Kathy, who was awarded an OBE in 2014 for her services to the community, began working in housing in 2007 when she joined Harvest Housing Group as Chair. She went on to play a central role in the formation of Your Housing Group, via the merger of Harvest and Arena Housing Groups in 2012.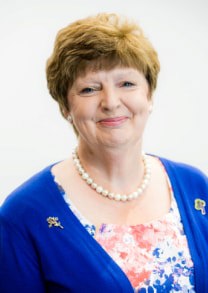 In her position as Chair of Your Housing Group she has worked to represent the Group's vision to transform lives and communities, attending many events, meeting residents and partners, and playing an active role in the community.
In 2014 Kathy was recognised for her work when she was awarded the title of 'Most Effective Board Member' at the Women in Housing Awards.
Commenting on her time as Chair Kathy Cowell said: "I have been privileged to work with immensely talented and committed staff, board members and stakeholders who all share the same passion and commitment that I have, one which ensures Your Housing Group continues to grow from strength to strength. I would like to extend my sincere thanks and appreciation to everyone at Your Housing Group for making my nine years as Chair very special – I have some great memories to take away with me."
Brian Cronin, Chief Executive of Your Housing Group, said: ""Kathy is an exceptional individual and her passion and commitment to the people and communities that she serves is outstanding. She was instrumental in the formation of Your Housing Group, and we feel honoured to have had such an outstanding individual as our Chair. We wish her all the best, and we will miss her." 
As a great supporter of regional charities Kathy also currently holds various roles including Deputy Lieutenant of Cheshire, Vice-Chair of Cheshire Young Carers, non-executive director for Central Manchester NHS Foundation, Hospital Central Manchester, University Hospitals NHS Foundation Trust, board member of Cheshire Community Foundation, board member of Active Cheshire and is also a member of the East Cheshire Hospice Strategic Advisory Group.
Kathy will be succeeded by Mark Tattersall, who is currently serving as Deputy Chair.
Kathy added: "I wish the new Chair, Mark, every success and extend my thanks to the rest of the Group Board and the leadership team for their support over the years."