Beechmere Fire Update
Latest update on the Beechmere fire.
1st November 2019

Cheshire Fire and Rescue's investigation has found that, based on the evidence at hand, the fire at Beechmere was started accidentally and was likely to have broken out on a third floor roof terrace before travelling up the wall into the roof space. The investigation into why it spread is ongoing and is likely to take several months to complete.

As always, our residents are a top priority and we are continuing to work with our colleagues at the council to ensure everyone is safe and supported.
Monday 23rd September 2019
Due to reduced footfall and the planned demolition of the site, the mobile office at Beechmere will be temporarily unavailable. Once demolition is complete, we will be back on site to help with your queries.

In the meantime, we will be on hand to support you on 0330 135 9019, or you can contact your Resident Liaison Officer.
Thursday 19th September 2019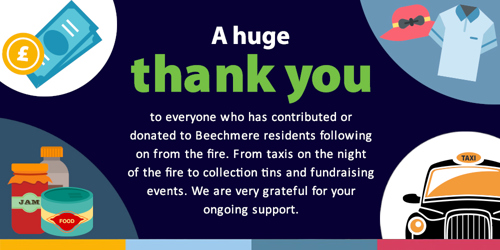 Monday 16th September 2019

Due to the reduction in enquiries at the Beechmere mobile office, we have reviewed our site presence and this will be reduced to 3 days a week - Monday, Wednesday and Friday's. This arrangement will be revisited on a weekly basis.

Any enquiries outside of these hours should still be directed by the YHG Beechmere enquiry line on 0330 135 9019.


Tuesday 10th September 2019

From today, the opening times for the Your Housing Group cabin situated at Beechmere will open as follows:
Tuesday 10:00 : 4:00
Wednesday 10:00: 4:00
Thursday 10:00 : 4:00
Friday 10:00 : 4:00
The cabin will be closed on weekends.
Friday 06th September 2019
Video Update from Brian Cronin - Chief Executive
This is a video from Brian Cronin - Chief Executive, 4 weeks on from the fire, providing an update on where we are up to with Beechmere.
Click here for more information about the social events we're running with Beechmere residents
Tuesday 27th August 2019
Mobile office back open
Our mobile office is back open, if you have any questions, pop down to see us, we're here from 10am – 6pm.
Wednesday 21st August 2019
Mobile office update
Over the course of this week our designated Resident Liaison Officers (RLO) have contacted residents of Beechmere, or their relatives, to discuss their situation and offer help and support. In addition, our on-site mobile office at Beechmere has been open every day between 10am and 6pm. 

Bank Holiday Weekend: 

The mobile office will close at 6pm this Friday (23 August) and will reopen on Tuesday 27 August at 10am. If over the weekend you have any emergency concerns about social care and accommodation, please contact Cheshire East Council's 24-hour helpline on 0300 123 5025.

Or, if your query relates to a specific issue you have discussed with your Resident Liaison Officer, please call 07788354608 between 10am-4pm on Saturday, Sunday and Monday.
Monday 19th August 2019
Beechmere update
The Beechmere site is unsafe and therefore cordoned off to the public. Work has commenced to start to clear the site with further demolition planned over the coming weeks.  

We will continue to liaise with our residents to ensure belongings are collected from apartments that are accessible, and that help and reassurance is available to them. Our priority is to ensure our residents are rehomed into appropriate accommodation as soon as possible and we continue to work with Cheshire East Council and our partners to achieve this.

Whilst we understand that losing a pet, or not knowing of their whereabouts, is heart breaking, we cannot allow access to the site as it is unsafe. However, we continue to work with our staff and local residents to support any efforts to find lost animals.

Anyone with any questions or concerns should contact our helpline on 0330 135 9019 or visit our mobile office on site between 10am and 6pm.
Thursday 15th August 2019
Insurance update
In relation to insurance enquiries, please speak to your resident liaison officer or call our helpline on 0330 135 9019.
Monday 12th August 2019
We're devastated by the effects of the fire at Beechmere and relieved that our residents and staff were all safely evacuated.

Now that we have secured the safety of our residents, staff and the site, our priority is to care for the needs of our residents and work to action a longer-term plan.

Since Thursday, we've been working closely with Cheshire Fire and Rescue Service. The site at Beechmere is still in their control whilst they continue to make the site safe and carry out their investigations.

Over the next few days, our ultimate focus will be to ensure we regularly update our residents and answer as many questions and queries as possible.

To help with this, there will be onsite presence in a mobile office facility from 3pm at Beechmere where those with any questions or queries can pop in to speak to a liaison officer. This facility will be available for at least the next 2 weeks open from 10am till 6pm.

A dedicated helpline has also been set up to assist with any queries which is live from 9am to 6pm, Monday to Friday –0330 135 9019.

We realise the impact this has had and will continue to have on our residents and the local community. Rest assured, we're doing all we can to find longer term solutions for residents and are in contact with partner agencies to assist us with this.

We will also ensure that each resident has a dedicated liaison officer to meet with and be a main point of contact outside of general queries. This will be communicated on an individual basis over the next 24/48 hours.

We're grateful and humbled for the tremendous amount of support we've seen from the local community, Cheshire East Council, Cheshire Fire and Rescue Service and other landlords to name but a few.

We will continue to update as and where we can using our social media platforms and website pages.

Thank you for your continued support at what is a devastating time for so many.