Tenancy Agreement Update
If you have received a letter from us about updating your agreement's Terms and Conditions, this page is to help you understand what we're proposing and what it means to you.
Why are you updating my Terms and Conditions?
As you know, Your Housing Group was formed through a number of housing associations each of which used different Terms and Conditions in their tenancy agreements. We are now seeking to make our agreements standard across the whole Group, so that you have the same or similar rights and obligations as other customers as far as possible.
So what's being done?
We have created a new standard set of Terms and Conditions which have been adopted for all new customers. These terms conform to current best practice for responsible UK landlords.
As an existing customer, we propose to adopt these new Terms and Conditions for your tenancy agreement too. In order to do this we have sent to you or will send you a letter, together with a revised set of Terms and Conditions, and a handy comparison document so you can compare the older terms with the new.
If you are on a Secure tenancy agreement, this initial letter is known as a Preliminary Notice of Variation, because we propose to vary (change) your Terms and Conditions.
What are the benefits of this?
By updating the Terms and Conditions we can ensure that:
Both you as our customer and we as your landlord understand our responsibilities – peace of mind for all
We will be able to offer a more consistent service to you and all our customers
Our relationship with you as landlord will reflect current law and practice (some of our current agreements are quite old)
The agreement is written with you in mind – we have changed the format, got rid of legal terminology and simplified the language
Please note the following:
This process will not end your tenancy – it will continue but with new Terms and Conditions
There will be no impact on your statutory rights
It will not affect the rent, service charges or other charges you currently pay and you must continue to pay them as before
If you are currently in rent arrears those arrears will continue to be owed and you must pay them off
If you are subject to possession proceedings this process will be of no effect and any letter and its contents we send to you can be ignored
So what do I do now?
What we would like you to do next depends on what type of tenancy agreement you are on.
1. If you are on an Assured Non-Shorthold Tenancy Agreement, or an Assured (Protected Rights) Non-Shorthold Tenancy Agreement:
You have or will receive the proposed Varied Terms and Conditions document as well as a comparison document to help you understand the differences between your existing terms and the proposed new terms. Please read the two documents carefully.
You will notice that an exact copy of the back page of the Varied Terms and Conditions document is enclosed separately. If you are happy with the proposed changes, please complete, sign, date, and return the separate back page only to us in the SAE provided.
If you are joint tenants, all joint tenants need to complete the back page. Keep the full Varied Terms and Conditions document for your records.
The deadline for responding is Friday 17 November. After this date the agreement will lapse and we will be unable to bring your agreement in line with new customers and current best practice.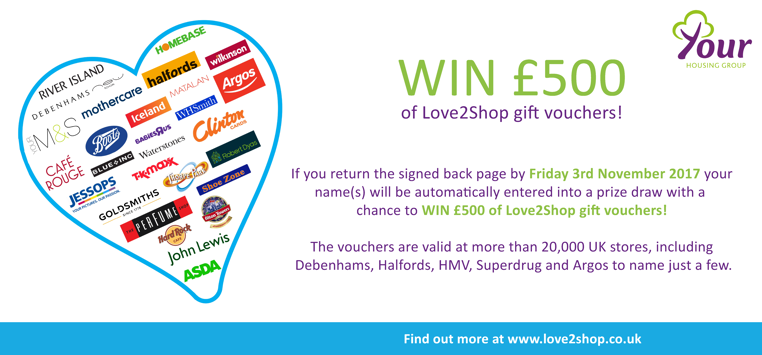 You can view the documents here:
Can I request the documents to sign?
Yes you can. Please email mytenancy@yourhousinggroup.co.uk with your name, postal address, date of birth and contact telephone number.
2. If you are on a Secure Tenancy Agreement:
In order to change (vary) your Terms and Conditions we must follow a process described in the Housing Act 1985. We must give you a reasonable time to comment and consider any comments you send us. If we then decide to proceed we must send you a Notice of Variation and this will give you 4 weeks' notice of the variation taking effect.
Unless you serve notice to end your tenancy, the variation will come into effect with the varied terms automatically being incorporated into your existing tenancy.
We are allowing a period of 21 days for consultation during which time you're invited to comment.
You can view the documents here:
For more information…
If you wish to comment on the proposed variation or if you want further information please email Sarah Mitten at mytenancy@yourhousinggroup.co.uk. If you do not have access to email, please write to Sarah using the SAE you have or will receive with your tenancy agreement letter. We can also arrange to visit you to go through the paperwork if you would prefer – please let us know.