Trio of family homes unveiled by Your Housing Group
Following a £780,000 investment, the rebuild of three historic family homes in Anfield has been completed by Your Housing Group.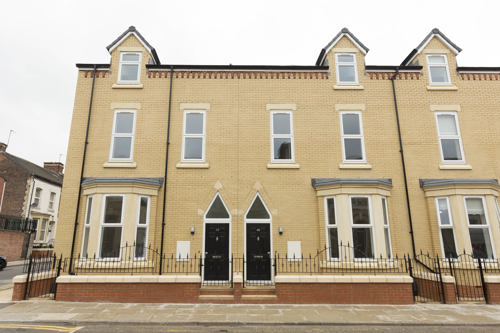 Located in Rockfield Road, the 3 and 4 bed period homes will be available for affordable rent and suitable for families of up to six people. 
Built at the turn of the century, working alongside Liverpool City Council's planning department, we have tastefully and sympathetically rebuilt to retain many of their historical features both inside and outside. 
Mark Tattersall, Chair of Your Housing Group said: "This renovation project forms part of the wider £260m regeneration plan, which is transforming the Anfield area and breathing life into north Liverpool. Our work in Anfield is part of our wider vision to create places to thrive and develop more homes for people at all stages of life.
"We're proud to see family homes of this size, quality and tenure in high demand as the regeneration initiative continues, so we expect there to be lots of interest in these properties. Each one has been rebuilt to its former glory, combining modern and traditional features which ensure they're functional but full of character." 
Carl Moore, Head of Home Ownership and Supply for the North West at the Homes and Communities Agency (HCA) said: "It is fantastic to see the heritage of this community being preserved at the same time as providing three more homes for rent for local people.
"Our support can make a real difference whether it is through a large new build scheme or helping to rebuild a historic neighbourhood such as Anfield."
Announced in 2013, the £260m regeneration plan is being driven by a partnership of Liverpool City Council, Your Housing Group and Liverpool FC.
Work already completed includes the restoration of historic terraced homes and innovative refurbishment projects, which have seen smaller traditional terraced houses combined to create 70 quality family homes. 
Further regeneration will result in more housing, improved shopping facilities and public spaces, and a major new pedestrian-friendly avenue and public square.