Verve Place celebrates 10 years of giving local young people a brighter future
Verve Place, a centre designed to give young people from difficult backgrounds a brighter future and the skills they need to live independently celebrates its 10th birthday today (Friday 27 July).
Verve Place in Warrington, owned and managed by YHG, has given opportunity and hope to more than 500 people aged 16 to 25 since it opened in the summer of 2008.

The Mayor of Warrington, local businesses and charities, and the chief executive of the Foyer Federation, a network of learning and accommodation centres with which Verve Place is accredited, were among those celebrating the milestone. The National Housing Federation, championing Supported Housing through its annual Starts at Home campaign, also attended.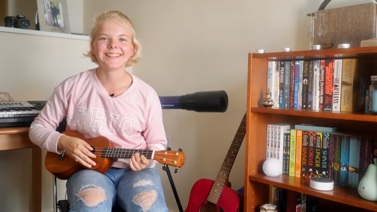 Verve Place has 38 apartments where young people are encouraged to live independently. As well as being taught essential skills, staff work closely with residents to harness talent and promote self-belief, positive aspects that can be severely hindered by challenging environments.

In a video presentation shown during the birthday party, 17-year-old Jade described how her desire to learn and better herself was restricted while juggling college life and caring for her parents at home. In the first of her six months at Verve Place, she retook a maths exam and improved her E-grade to an A.
She said: "At that time I was a parent, looking after my mum and dad and my little sister. My social worker managed to get me a place at Verve in about two weeks because at the time I was sleeping on couches.

I feel safer and happier here, it's a different way to live. It's independence and freedom, but at the same time you have people downstairs that you can get help from.

I have been able to work a lot more on my college courses. I've visited Loughborough University which is where I've always wanted to go. They do a lot of physics which is what I want to study and since I've been here I've been able to focus just on physics and maths.

I feel a lot better now. I'm not stuck in that same place any more. Now I feel like I can move forward, get a job and get a life."
Verve Place is one of Your Housing Group's four Foyers across the North West, in total providing 140 apartments. It's part of the landlord's supported housing service, which includes centres for the homeless, domestic abuse support and tailored help to vulnerable residents in their own home.
Verve Place Manager Paul Storey said every person's situation was different while the goals were always the same. "Our aim is give young people purpose, belief in themselves, work with them on what they are good at and give them what they need to thrive and move on, he said.

Jade's story is not unusual. Yet when people think of Foyers or supported housing they probably don't picture teenagers into quantum physics and particle physics who want a career in nuclear engineering.

Every young person has something special about them. We help them find it, nurture it, then give them the skills and confidence to live independently and realise their true potential. It's a challenging job, for sure, but so rewarding."
Foyer Federation Chief Executive Tokunbo Ajasa-Oluwa said: "The Foyer Federation is very proud to have Verve Place as a member for the past decade. The service has been an impressive example of how a Foyer can support young people experiencing challenges to thrive in their community."