YHG announce historic Joint Venture deal
Your Housing Group has announced a historic joint venture deal with Welink Group, which will see 1,000's of homes built across the UK through an initial investment whilst accessing China National Building Material Company's (CNBM) technology, financial support and leverage for additional investment in the UK.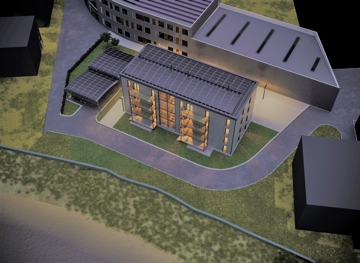 The joint venture is extremely timely as the UK Government is actively encouraging new innovative entrants to the housing market to help deliver its housing objective of 1million homes by 2020.  The joint venture will also be a platform to engage with other Local Authorities and Housing Associations as partners to help solve their housing market needs.
A key element of the partnership also see's support for local businesses by developing supply and delivery chains that source materials and labour locally to proposed developments.
As part of the deal, the JV will also build up to six factories at strategic locations across the UK, which will produce up to 25,000 homes per year, making it the UK's leading modular housing developer.
Stephen Haigh, UK CEO of the new Joint Venture, said:
'Through this joint venture we are leading the transformation of the housing market and are able to address the UK's housing need head-on, creating an innovative platform to enable the increase in supply of new homes.
Our announcement is very much about identifying new opportunities and assisting Government and other Housing Associations to achieve their housing aspirations as announced in the recent Autumn Statement, such as the £2.3bn infrastructure fund. It is also crucial that we work closely with Local Authorities to create mixed tenure communities to cement our development model as the solution to their house building and development needs'
Brian Cronin, CEO of Your Housing Group, commented:
'YHG is committed to providing innovative solutions to address the availability crisis which affects the housing sector in the UK today. Therefore, as one of the UK's largest Housing Associations, with over 20 years' experience of housing management and operations, we are delighted to be part of this ground-breaking joint venture.
This is an opportunity for YHG to get back to building more social and affordable homes across a wider geography of the UK, it also ensures new types of employment, new building skills, and the nurturing of additional apprenticeship opportunities are available, which can only be good news for local people and businesses where we develop our housing and supply chains."
Mark Tattersall, Chair of Your Housing Group, added,
'Our focus as a business has always been about building and maintaining communities through the development of good housing, creation of jobs and servicing the needs of all of our customers. Today's announcement brings further investment, opportunities and new homes to our region that will generate a welcomed positive impact in our communities when it is needed most.' 
The new JV deal will operate separately to YHG's core division and customers of Your Housing Group will not see any change/impact to the housing management and services they receive currently. Further announcements about the Joint Venture will be communicated to customers in the coming weeks, via our website and social media channels.