It's World Menopause Day and this year we wanted to share a real-life experience of a member of #TeamYHG going through this stage of life.
A huge thank you to Kerri, our Marketing & Brand Manager, for sharing her personal thoughts and feelings about what it was like at the time (and now!)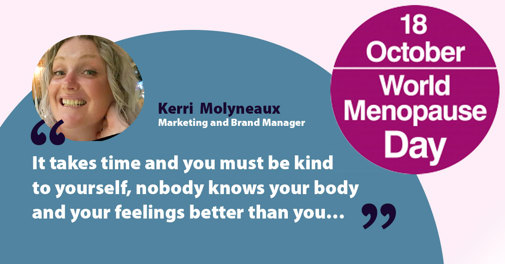 1. How did you feel when you first realised you were peri-menopausal?
I had no perimenopausal symptoms at all! Even looking back now I can't say I had any of the usual signs, no brain fog, hot flushes, difficulty sleeping – nothing at all.
2. How long did this last before you reached Menopause?
That's a hard one to answer as I didn't have a symptomatic perimenopause, but when the menopause hit I certainly knew about it! I had an early menopause. I was 42 when my periods became irregular but as I had just had a baby I put it down to my hormones being a bit all over the place and that they would come back to normal. This went on for about four months then I didn't have any at all, they just stopped. 
3. What were your main symptoms both pre and post?
Once my periods stopped a tidal wave of symptoms came! I had hot flushes – awful! Night sweats, brain fog to the point where I sometimes couldn't talk because my brain was literally empty, people could be asking me a question and I wouldn't be able to put a response together, anger, feeling deeply sad for no reason, lethargic, lacking any drive to do anything, a feeling of being completely overwhelmed with life but not knowing why.
4. What was the worst experience for you?
I think the start of the menopause and those first 10 months when the symptoms hit me like a tonne of bricks. I eventually went to see my doctor and just broke down in floods of tears because I thought I was going mad or having a nervous breakdown. The only thing giving me happiness and keeping me sane was my beautiful daughter. As I was 43 when I went to see the doctor with all these symptoms, she did test my blood for my hormone levels as she thought it could be the start of the perimenopause. When the blood tests came back, she said I'd been through the menopause, which came as a total relief as it meant I wasn't going mad.
5. Did you feel you got the right support - both from medical and work?
Right from the start and through to today I have had nothing but great support and understanding from my doctor and nurse practitioners, even down to the pharmacists being really apologetic when they can't get my HRT due to the lack of it which isn't their fault, but that's a discussion for another time! I can't fault the help and support I have had from the NHS.
Work though, was a completely different kettle of fish. I didn't work for YHG at this time, I won't say where I did work, but I had two different employers during the first few years which were the worst symptom-wise, and neither of them was very sympathetic nor helpful. In fact, work became so brutal I completely lost all my confidence and ended up leaving being an employee and I worked for myself for a few years as I just felt completely alone in the place I was. I'm so grateful to be working somewhere where this is an understanding of this now!
6. Is there anything you would say to anyone else going through this now?
Yes – it does get better! It takes time and you must be kind to yourself, nobody knows your body and your feelings better than you, so if you think you need help like HRT to get through this period in your life then take it. I listened to too many women who thought it was a badge of honour to suffer and be miserable and 'get through it' rather than take HRT, this was the 'soft option'. Dealing with it by using the stiff upper lip, a tube of tiger balm, and oil of evening primrose might work for some women but it doesn't work for everyone and you shouldn't feel that you have to put up with your symptoms and just get through it. Great help, advice and medication is out there to get you through this in the best way possible, take it if you need it.
7. Finally, any top tips?
Yes, I have three:
Don't suffer in silence! If you are struggling with symptoms or you just don't feel like yourself, go and speak to your doctor or ask if there is a menopause specialist at your practice and ask to see them.
Don't be afraid to take HRT. There is still a lot of misinformation out there about HRT, talk to your GP or menopause nurse about it and get your information from a trained medical practitioner. This leads me on to top tip number three…
Do your research from reputable sources, check the person's training and qualifications, and only take medical advice from a qualified medical expert.  
Resources
Find your nearest NHS or private British Menopause Specialist