Homes to buy
Dream of owning your own home, or simply want to move up the property ladder? We can help.
With fantastic developments across the North West, Yorkshire and the Midlands, and new ones launching every year, finding a home that's right for you could be easier than you think.
Start your property search here.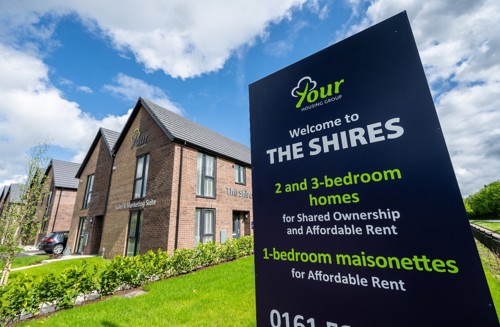 Plus at Your Housing Group we also have lots of ways you can move into your own home.
Help to Buy
With this government-backed scheme you can buy with the help of an equity loan for up to 20%* of the purchase price interest free for 5 years. It means you could move in with just a 5% deposit. And you'll own 100% of your home.
Shared Ownership
One of the most flexible ways to buy a home, Shared Ownership allows you to buy shares in your home, anything from 25% to 75%. You then pay rent on the remaining percentage. Over time, you'll be given the chance to buy additional shares in your home.
Shared Equity
A great option for first time buyers or those on a low income, with a Shared Equity you buy 75-80% of your home and we'll offer you an interest free loan for the rest. Unlike Shared Ownership, there's no additional rent to pay.
If you have any questions about shared ownership homes please don't hesitate to contact our specialist Management and Commercial Transaction Team on 0300 303 3619.