Electric bikes and electric scooters
As these items become more and more common, it's vital that you understand how to store them and charge them as safely as possible. 
They are increasingly causing fires due to incorrect use and this not only puts your home at risk, but you and your family, and even your neighbours.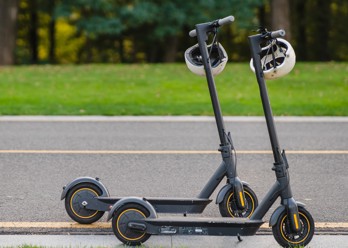 fires caused
by e-bikes and e-scooters in the UK in 2023 (predicted figure)
people injured
by e-bike and e-scooter fires in the UK so far this year, and sadly six people have died.
Electrical vehicle fires quadruple since 2020
Do...
Store and charge your e-bike/e-scooter in a cool room in your own home, where smoke/heat detection is installed.
Use ONLY the manufacturer approved charger and battery for your e-bike/e-scooter.
Regularly check your battery for damage and only buy an official
replacement.
Buy e-bikes/e-scooters, chargers and batteries from reputable retailers ONLY.
Buy conversion kits from a reputable seller ONLY and check that it complies with British or European standards.
Check the manufacturer's instructions for charge times
to make sure you don't overcharge the batteries.
Don't...
Charge or store your e-bike/e-scooter in communal areas or in the way of an escape route e.g., hallway.
Don't charge or store batteries near combustible or flammable
materials.
Cover wires/batteries whilst on charge as this can cause them to overheat.
Charge batteries when you are not at home or asleep.
Overcharge. When your battery reaches full charge always
turn the plug off and unplug.
Use an extension lead to charge your batteries.
Dispose batteries in your normal recycling. Check with your local authority for suitable battery recycling in your area.