Four Million Homes is government funded training which aims to:
Empower you to know-your-rights
Share tips and advice on how to tell your landlord your concerns, issues and complaints...and be heard loud and clear when doing so
Advise on how to set up a residents panel so you are always treated with respect.
There will be FREE training events for social housing residents over the next two years, in seven UK cities, as well as online webinars too.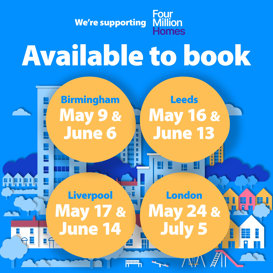 Book your place!
The first two in Liverpool are on May 17 and June 14 at 54 St James Street, Liverpool.
Book your place

You can also join upcoming live webinars (online training that you can simply join via a link) and watch previous ones here. 

For further information, and to read all about the training, simply head to fourmillionhomes.org